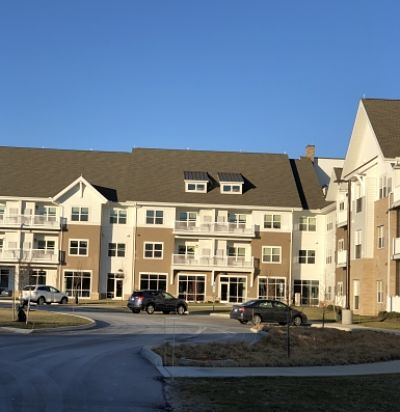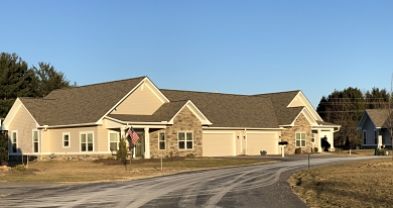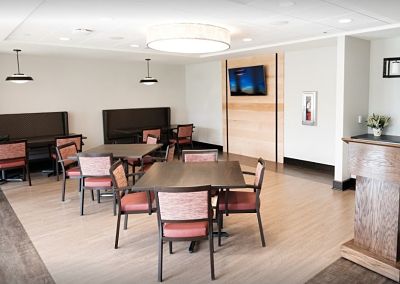 Project:
Sisters of Notre Dame –  Assisted Living & Memory Care Facilities
Chardon, OH
Description:
Mechanical, Electrical and Plumbing design of three (3) separate buildings: an Independent Living Facility containing central dining/activity spaces and a below grade heated parking garage, an I-2 Skilled Nursing Facility and multiple Townhome Residences.
Summary of Services:
Mechanical, Electrical and Plumbing system design.
Construction Administration Services including submittal review, response to RFIs and site observation reports.
Design of electrical site lighting and site power distribution.
System Design Highlights:
Each building was provided with a dedicated HVAC system, appropriate for the occupancy and owner's budget.  The systems designed and selected for this project included:
Packaged gas/electric Magic-Pak units
Packaged VAV systems serving terminals with electric reheat
Ductless split system
All electric VTACs
Dedicated Outdoor Air Systems
Central Boiler Systems
DX Fan Coil Units
Our design included coordination of site electrical power distribution with the local utility company and the project civil engineer.
Plumbing design included the evaluation of an existing campus well system to determine the available capacity for the proposed addition.
Unique Project Challenges:
Wood framed construction presented a number of challenges when coordinating equipment locations, routing for ductwork, piping and electrical conduits.  All systems were installed in a way that maintains service access for the owner's staff.
The Skilled Nursing Building was classified as an I-2 Nursing Facility which required an ASHRAE 170 Compliant design.
Construction Cost:
$35,000,000
Project Completion Date:
November 2018